Raw African Black Soap
Do you struggle with an unwanted skin condition?
Is your skin not smooth and desirable?
Are you tired of using products with chemicals?
Tried other black soaps but they were not user friendly?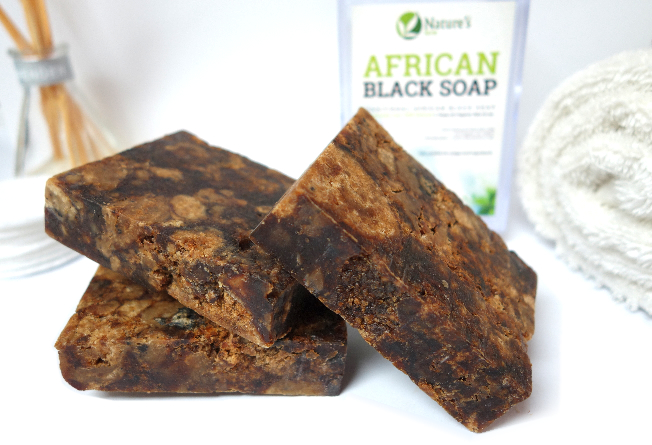 African Black Soap Ingredients: Palm Oil*, Cocoa Pod*, Palm Kernal Oil*, Coconut Oil*, Unrefined Shea Butter* (38%), Plantain Skin Ash*, Purified Water, Natural Vitamin E, Natural Sodium.
(* organic)
Introducing our authentic raw African Black Soap by Nature's Form from Ghana, Africa. Used for many skin conditions and in many skin treatments including Psoriasis scalp, Eczema, dry skin, skin lightening and whitening, Dermatitis and Acne.
The soap is made by first drying the skins of the Plantain fruit to precise texture in the hot African sun. The skins are then roasted in a clay oven to achieve a particular color, texture and fragrance. The longer they are dried the darker the color of the soap. Next, this base is carefully mixed with palm oil and palm kernal oil. Generous amounts of Ivory Shea Butter are then mixed in. The soap is then hardened by being put into molds and left for days in the African sun to harden. Then it is packaged into air-tight bags in Africa to preserve its centuries old cleansing and medicinal power.
Handmade, organic, all natural ingredients with Shea Butter
Authentic age-old recipe from west Africa
Standard-sized bars for use with normal soap dishes
3-pack in a slick plastic case for easy and secure storage of unused bars
Safe and beneficial for all skin types
Use African Black Soap by Nature's Form Now - your skin will feel the difference!
Our buyers trust Nature's Form as a brand that has high quality health products that can be trusted.
We believe in ourselves so much that we have a money-back guarantee on all of our products. If after following our usage instructions you are not satisfied with our products, we will give your money back, no-questions-asked.